Asperitas is a clean and high-tech company. As leading immersion cooling specialists they provide cutting edge immersion cooling solutions for energy efficient and high density datacentres globally.
Smaller physical footprint compared to air cooling
Less datacentre CAPEX and OPEX costs compared to air cooling
Greater CPU performance compared to air cooling
Award-winning natural convection technology
Optimised for synergy and performance
Asperitas' unique technology enables sustainable and high density datacentres anywhere they are needed.
Accelerate your infrastructure with application-specific hardware in fully integrated, contained and plug and play immersion cooling solutions.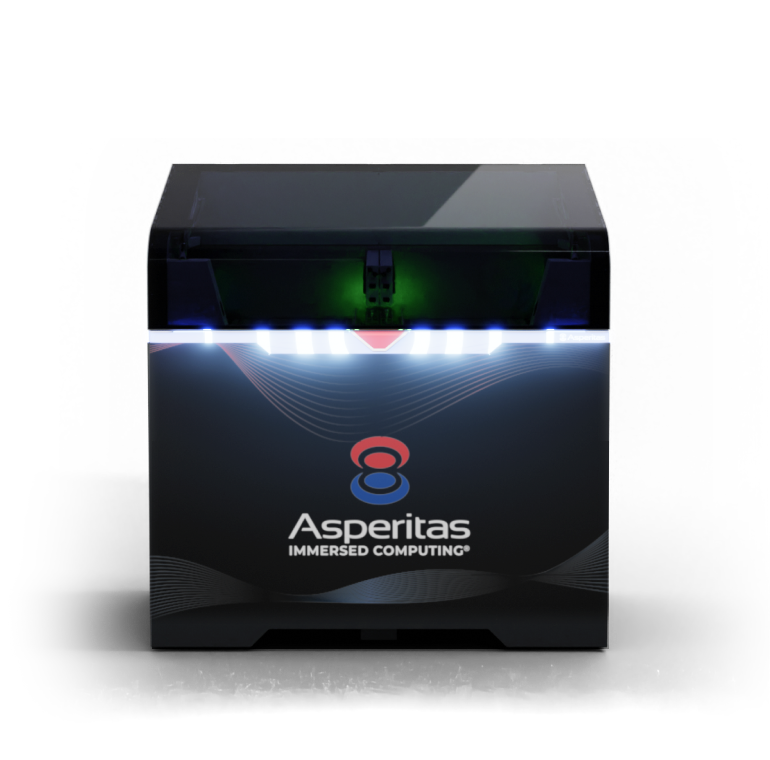 High performance computing
Modular and scalable, by design
Facilitates 5-10 times more density than air
Plug-and Play design, easy to set up
Datacentres can do more: Keeping IT cool, immersion cooling special
Immersion cooling is not new, but as IT workloads continue to densify, the move towards more effective cooling techniques has become a necessity. Whilst the need for immersion is clear, the path to adoption is still a discovery for first time users. With immersion cooling being a cross over solution between cooling and IT, there are different components and perspectives to what makes an immersion cooling project successful.
Operational readiness is something that starts with selecting the right solution, all the way down to the ideal situation: an optimized facility. The right immersion cooling solution is always a system where the cooling solution, the dielectric fluid and the compute hardware are integrated from a business, operational and technical perspective.
Want to know more?
Get answers to most frequently asked questions, directly from the Asperitas team.
Immersion Cooling Solutions FAQ - Episode 1
Immersion Cooling Solutions FAQ - Episode 2
Industry solutions
Get in touch with our sales team to get the best fit for you needs.
Research & Academia: Supercharged.
Maximise high performance computing with immersion cooling. Minimise energy costs. Immersed Computing® solutions allow for high density CPU and GPU, without overhead energy and can plug and play anywhere on campus. All solutions can be warm water cooled and offer 100% of IT energy ready for reuse.
Emerging Tech: Datacentres for emerging technologies can be future ready.
Common data is only transferred to the backup or offsite location ONCE. Unlike most competitors, the service does not handle this post-process so it ensures that only changed data is sent to the customer's backup repository right away (rather than removing the identical data after the transfer).
Cloud Providers: Be hyperscale efficient with any scale.
Standardise and scale your platform. Bring back the focus on IT, not the facility, with immersion cooling. Immersed Computing® solutions will allow you to bring your cloud service on a mimimal footprint, with no overhead and full utilisation of your servers. All solutions can be warm water cooled and offer 100% of IT energy ready for reuse.
Enterprise: Facilitate all the applications your organisation needs.
From full stack immersion cooling solutions for all enterprise workloads to mixed zones in your datacentre with high density compute needs and high storage nodes. All solutions can be warm water cooled and offer 100% of IT energy ready for reuse.
Are you working on your liquid cooling strategy?
Get your business ready for demanding future workloads.